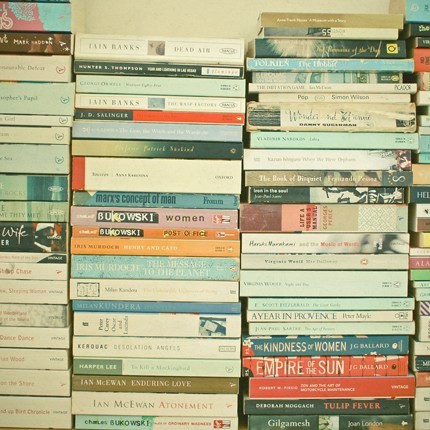 I vividly remember the day when I walked hand in hand with my Grand Pa (whom I used to call Tatha) with excitement and anxiety filling every cell of my body to get my 1st ever novel from a near by library. This was done for 2 main reason; one was that I had completed all the books laying around in my home including my academic English Text Book and the two supplementary (as usual within 4 days from the purchase) and reason two was that my Grand Pa was tired of me nagging for new and innovative stories as he had exhausted himself with all the stories he remembered (which comprised of many novel stories as I now realize) and he thought the only way I would shut the hell up was if he gets a novel that would occupy me for days but little did he know. So he took me to the Library that was 30 minutes away from my home and introduced me into this whole new world of books that I soon fell in love with.
As probably the case with everyone I started off by reading Nancy Drew and The Hardy Boys mysteries (I guess that's where my love affair with mysteries started and curiosity cells in my body got activated). I read them in such a fast pace that shocked both my Grand Pa and the librarian. My Grand Pa never thought that I could read anything so fast, sitting for hours together and forgetting the whole world around me especially given my concentration levels when it came to academic books. Soon I completed all the Nancy Drew and Hardy Boys books in library and moved on to Harry Potter.
I digress  (talking about my Sweet Heart Grand Pa and books always does that to me)… all I wanted to say was that I don't read as much I would love to or as much as I used to before. And considering that books are my best friends and I love them beyond eternity I m really disappointed in me. So, I have made a resolution (along with my friend) for the upcoming year 2011. The resolution is to try and Read 100 books this year and I m calling this challenge 100 Book Challenge for 2011.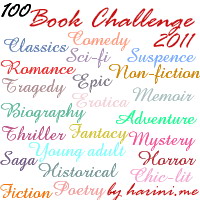 I don't really like rules but well, oh well my friend told me that every challenge even if it's for your self needs to have rules (such a party pooper eh?). So, anyways here are the rules –
You should read 100 books in year 2011 which spans from January 1st to December 31st.
You can read books of any genre, fiction, non-fiction, poetry absolutely any book that's recognized.
You can even re-read the books (I made this one because I want to re-read the whole Harry Potter series).
It's that simple!
Anyways me being me I have already made a list of books I wanna read in 2011 (as I have been wanting to read a few for ages now) and here is the list –
(The books that I will be reading for the 1st time are in blue, the ones I m re-reading are in pink and the once that I have read but dont remember much are in purple)
1)      The Girl who played with Fire by Stieg Larsson
2)      The Girl who kicked the Hornets' Nest by Stieg Larsson
3)      The Kite Runner by Khaled Hosseini
4)      A Thousand Splendid suns by Khaled Hosseini
5)      Murder is easy by Agatha Christie
6)      Why dint they ask Evans by Agatha Christie
7)      The Shining by Stephen King (I have never read a horror fiction… this will be the 1st)
8)      A walk to remember by Nicolas Sparks
9)      The Fellowship of the Ring by J.R.R Tolkien
10)   The Two Towers by J.R.R Tolkien
11)   The Return of the King by J.R.R Tolkien
12)   The Hobbit by J.R.R Tolkien
13)   A tale of two cities by Charles Dickens
14)   A Christmas Carol by Charles Dickens
15)   Kane and Abel by Jeffery Archer
16)   Wuthering Heights by Emily Bronte
17)   Wings of Fire by Abdul Kalam
18)   Malgudi Days by R.K Narayan
19)   Swami and Friends by R.K Narayan
20)   Sherlock Holmes complete works volume 1 by Arthur Conan Doyle
21)   Sherlock Holmes complete works volume 2 by Arthur Conan Doyle
22)   Friends Til' the death by David Wild
23)   The Last Song by Nicolas Sparks
24)   Safe Haven by Nicolas Sparks
25)   Dear John by Nicolas Sparks
26)   Jane Eyre by Charlotte Bronte
27)   Rage of Angels by Sidney Sheldon
28)   The interpretation of Dreams by Sigmund Freud
29)   The Moonstone by Wilkie Collins
30)   The three Musketeers by Alexandre Dumas
31)   Alice in Wonderland by Lewis Carroll
32)   The Hitchhiker's Guide to Galaxy by Douglas Adams
33)   Born in Fire by Nora Roberts
34)   Born in Ice by Nora Roberts
35)   Born in Shame by Nora Roberts
36)   Dance upon the Air by Nora Roberts
37)   Heaven and Earth by Nora Roberts
38)   Face the Fire by Nora Roberts (all the Nora Roberts books after a strong recommendation by my sis)
39)   Lolita by Vladimir Nabokov
40)   Midnights Children by Salman Rushdie
41)   The Lost Symbol by Dan Brown
42)   The Nanny Diaries by Emma McLaughlin
43)   Diary of a Wimpy Kid by Jeff Kinney
44)   The Silence of the Lambs by Thomas Harris
45)   Bridget Jones's Diary by Helen Fielding
46)   Charlett's Web by E.B White
47)   The Giver by Lois Lowry
48)   Eleven Minutes by Paulo Coelho
49)   The Comedy of Errors by William Shakespeare
50)   Julius Caesar by William Shakespeare
51)   Othello by William Shakespeare
52)   Hamlet by William Shakespeare
53)   Macbeth by William Shakespeare
54)   Anthony and Cleopatra by William Shakespeare
55)   A midsummer nights dream by William Shakespeare
56)   Much Ado about nothing by William Shakespeare
57)   Into the wild by Jon Krakauer
58)   Shutter Island by Dennis Lehane
59)   Strong Poison by Dorothy L Sayers
60)   Gaudy Night by Dorothy L Sayers
61)   Selected Short Stories of O. Henry by O. Henry
62)   Harry Potter and the Sorcerer's Stone by J.K. Rowling
63)   Harry Potter and the Chamber of Secrets by J.K Rowling
64)   Harry Potter and the Prisoner of Azkaban by J.K Rowling
65)   Harry Potter and the Goblet of Fire by J.K Rowling
66)   Harry Potter and the Order of Phoenix by J.K Rowling
67)   Harry Potter and the Half Blood Prince by J.K Rowling
68)   Harry Potter and the Deathly Hallows by J.K Rowling
69)   The Da Vinci Code by Dan Brown
70)   Gulliver Travels by Jonathan Swift
71)   Great Expectations by Charles Dickens
72)   To Kill a Mockingbird by Harper Lee
73)   Murder on Orient Express by Agatha Christie
74)   Death on Nile by Agatha Christie
75)   Evil Under the Sun by Agatha Christie
76)   Dr. Jekyll & Mr. Hyde by Robert Louis Stevenson
77)   The Foutainhead by Ayn Rand
78)   Gone with the Wind by Margaret Mitchell
79)   The Firm by John Grisham
80) Letters to Juliet by Lise Friedman
Those are the books I can think of right now but as the near goes by the List will get edited as I strike off the books I read or add the new books that I have read or want to read.
I m really Excited about this Challenge to myself. I have never ever challenged myself before like this. Let's see if I can win.
Do you guys wanna join too and enjoy this year by reading books with me? If yes all you have to do is say in comments that you are IN and by the end of 2011 inform me how many books have you read. You don't have to blog about every book you read but if you want to I won't stop you. If you have a Goodreads Id add me so I can keep a track of what are you reading. And NO Cheating :P.