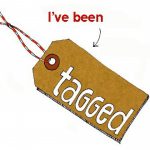 Yippee!!! My 1st ever tag :P. Its just what i needed. I really had no clue what to blog about as my life is not so happening at the moment. Thanks Ash. Anyways I know rules make anything boring but i have been asked to do it. So here are the rules-
1) Link the person who tagged you.
2) Post the rules on your blog.
3) Share the ABCs of you.
4) Tag 3 people at the end of your post by linking to them.
5) Let the 3 people know of the tag by leaving them comments.
6) Do not tag the original 'tagger'.
Letting all my creative juices flow here i go –
A – Available/Single? Why? Are you interested 😉
B – Best friend? Don't you like me? Why are you in a hurry to get me killed?
C – Cake or Pie? Both. One look at me and you will know :))
D – Drink of choice? Lassi 😛
E – Essential item you use every day? Phone, phone and phone
F – Favorite colour? Depends on the day, my mood and what looks good on me 😉
G – Gummy Bears Or Worms? Gummy Bears any day (it atleast sounds better)
H – Hometown? Hyderabad
I – Indulgence? Books and Music
J – January or February? None… nothing special in these two months… Oh wait we do have the great Vday in Feb, Don't we ;)…
K – Kids & their names? Not for another 4 years atleast…
L – Life is incomplete without? People you love and who love you back
M – Marriage date? No, Not again :(….
N – Number of siblings? None…
O – Oranges or Apples? What's wrong with mangoes, strawberries, cherries??
P – Phobias/Fears? Lizards… they are so icky *shudders*
Q – Quote for today? Sometimes you just have to jump down the bridge and grow your wings on the way down
R – Reason to smile? This wonderful weather 🙂
S – Season? rainy.
T – Tag 3 People? Haven't you already said this?
U – Unknown fact about me? I clean rarely but when i do, i do it to perfection :p. So in a way cleanliness freak :D…
V – Vegetable you don't like? Bitter Gourd
W – Worst habit? Laziness…
X – X-rays you've had? You dint find any thing with X did ya?
Y – Your favorite food? Its unfair to ask a foodie to name just one
Z – Zodiac sign? I am Lioness i.e Leo…