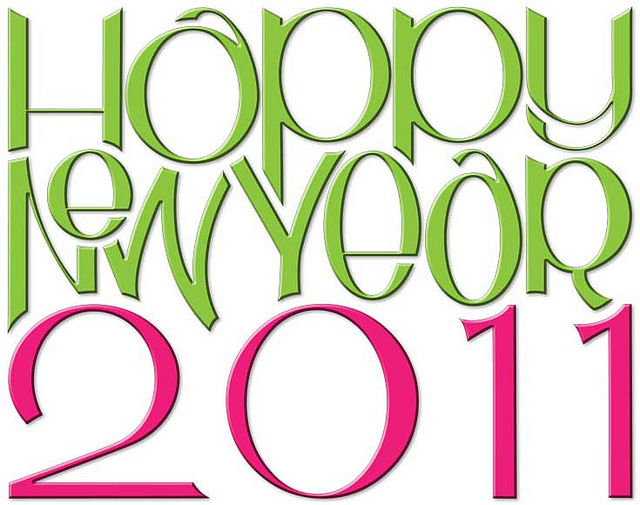 In just a few hours the year 2010 will be coming to an end (and not to forget the decade) and a brand new year 2011 will begin. 2010 was a good year for me (apart from losing my best friend) and was filled those little, sweet happy moments that are very special to me. In the begging of this year I had made a very very silly To-Do List and I just remembered that few hours ago. So lets see how successful I was… shall we?
♥ Learn to say NO,be it to dogs or to people.
(Done… but none of them particularly liked this change in me).
♥ Go for my Masters and become geeky kinds and try to top the university.
(Got into a job instead).
♥ Buy an awesome pair of high heels and learn to walk not trip in them.
(Got a pair of wedges, can walk in them but really I now know I prefer shoes).
♥ Lose weight and get fit.
(Do 2-3 kgs counts?:P)
♥ Learn swimming or playing guitar or salsa dancing… in other words learn something new.
(Learnt few codes so I guess that's something new).
♥ Stop being lazy and do all those things I have postponing and this reminds me. I need to stop postponing stuff.
(Hahaha… but yeah I m not as lazy as before.)
♥ Stop wasting money and start saving it spending it wisely.
(ROFL… Wise spending and me!!! Ok, I don't spend it wisely but don't spend it lavishly either.)
♥ Learn more recipes, cook better.
(Yes).
♥ Take care of more street dogs and feed them regularly.
(Did in 1st part of the year after that my pups grew up and wandered off).
♥ Get over the chocolate addiction and eat them twice a week rather than daily.
(Yes! Yes! Yes! I did it finally!)
♥ Become more eco-friendly.
(Hmm… not sure).
♥ Learn to put on the make-up… its high time dont you think?
(I know how to put mascara and lip gloss now… does that count as make up?)
♥ Try to stop being this nocturnal animal and sleep on time and more importantly stop sending messages to friends in the middle of the night asking if they are awake.
(Never gonna happen :P).
♥ Go and dance in the rain… I have wanted to do this forever.
(Did it and trust me it feels awesome 🙂 ).
♥ Take many more photographs and better ones.
(Done).
♥ Blog more and blog better. I dont know how many things am I gonna end up doing.
(Its for you guys to decide).
So, what are my resolutions for this year? Nada! Except for of course the Book Challenge and Reducing Weight thing (it will never end will it?).
This year all I wish is for is few of my dreams to come true and also that this year brings in a lot of happiness for everyone I love and care about. My happiness depends on that.
And Thank You guys for being a part of my life this year and keeping up with all the crap things I write. You are a big part of my life and many times your comments bring me out of the gloomiest of moods. So thanks Again :)!
I Wish all of you guys a very Happy New Year from bottom of my heart and wish that every dream of yours come true and this year is filled with lots and lots of happiness :). I hope you guys make this year special too as you have made my last :).