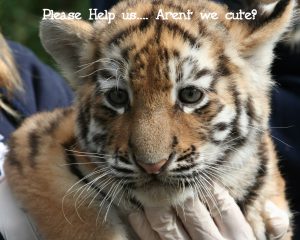 The day Aircel started 'Save our Tigers' campaign, I was game for it. Tigers are my second most favorite animals  after all (1st being dogs). That very same day,  I logged on to the website and joined the roar. The next few days I spent nagging, requesting, pleading, demanding my friends to do it. People who know me very well and how strongly I felt about this whole  issue (even before this campaign started) dint say anything and just joined it or said that they did.
Others who hardly knew me were asking me questions. And I think I am gonna get the same questions now that I have decided to blog about the campaign and requesting you guys to join in. So I have decided to answer the questions way before you ask them.
How is this thing even going to help?
Well, basically the website is giving us a platform to show our support to the cause. They want to make the whole roar so strong that the government has no other option but to sit up and notice. So this is a perfect opportunity for the people who always say, "I want to help but I don't know how". Now, you have been given an opportunity to help.
Do you know how many children die all around the world? Do you know that so many of our languages and tribes have become extinct?
Yes, I know many tribes have gone extinct. Yes, I know many children die all over the world. Have I ever asked you to not help those causes? I myself support those causes for God's sake. I have tried to contribute when ever I can, how much I can. And by asking you guys to save the tigers or help them, I am not asking you guys to stop supporting other causes. You can help both of the causes… did that ever occur to you guys? Coming to tribes and their survival, I think that is interlinked with tigers. Reforestation is the key for survival of the tribes as well as the animals. Stop poaching too.
Is this the campaign talking?
Nope, I have supported this cause even before the whole campaign started. I never blogged about this before but that doesn't mean I dint support it before. You can ask people who know me personally if you don't trust me.
Why is saving tigers that important or for that mater mother nature?
Saving tigers is important mainly to maintain balance of nature. With extinction of a particular species the whole eco system gets disturbed and the consequences will affect the human race.
Coming to Mother Nature its simple – As long as she survives and is happy, we survive. The day she is destroyed, so are we.
What can I do to help?
For starters you can join here.
Secondly you can discuss this and spread the awareness among your friends.
You can reduce the use of products obtained from the forests.
You can stop buying products that use animal skin.
If you guys want to do further, you can go to WWF site and donate here. This also holds good for people who think that Aircel cant be trusted.
PS – I am not forcing any of you to join. I just wanted to put my opinion forward and help those who want to support the cause. If you guys think Tigers (our national animal) are worth saving, then join the cause.
PPS – I don't hate Saif Ali Khan. I am not going to say he isn't a great actor and doesn't deserve Padma Shri Award. But I would say he doesn't deserve it because he was once involved in poaching black bucks.
PPPS – Sachin is awesome! I will blog more about the same :P.