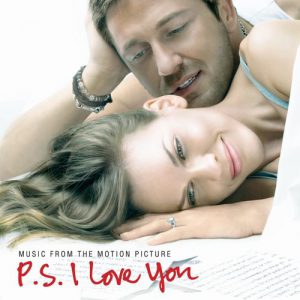 Finally, I got myself to watch the movie. I read the book long ago and I was sure that the movie would not do justice the book like i usually am. But boy! was I  in for a surprise. I liked the movie and I can't say if it did justice to the book or not as I completely forgot about the book while watching the movie. It was just THAT different and it completely worked.
The story Ofcourse is of Holly and Gerry. They fall in love while they are in their college and get married against the wishes of their parents. They are a happy couple and live a dream. But the unthinkable happens in form of Gerry's death. The movie is about how Holly copes with the loss. Helping her through this tough time are her friends and bunch of letters left behind by Gerry which arrive every month.
The movie gave more life to the character of Gerry. Gerard played the character so well that I think I like the movie Gerry more than the book. Gerard Butler's sexy dance was just AWESOME! Hillary Swank completely does justice to the role of Holly Kennedy. The scene in which she meets Gerry for the 1st time in Ireland is too sweet. They added a new character called William whom she meets in Ireland during her holiday and later realizes that he is Gerry's best friend. And I think the movie makers need to be thanked for adding him as Jeffrey Dean Morgan is damn HOT! In the book I loved the character Daniel but here I noticed him barely. Even though Harry Connick Junior played the character well, I just couldn't stop going gaga over the other two men in the movie. For once in my life I managed to see Lisa Kudrow as her and not as Phoebe Buffy. She played the character of no nonsense women perfectly. In the book, Holly has a happy family with her mom, dad, 3 brothers and a sister but in the movie the family has been reduced to just 3, she, her mom and her sister Caira who doesn't have pink hair. Their dad leaves them when they were very young and the character of Holly is shown to have been affected by that incident.
Its not a movie which is an Academy award material, nor is it something that critics will rate high. Its a movie that makes you laugh and cry. The movie will assure that you end up with a smile on your face, atleast I did. So, if people having been putting off watching this movie then do watch it as its worth a watch :).
Rating – 4 1/2 stars out of 5.