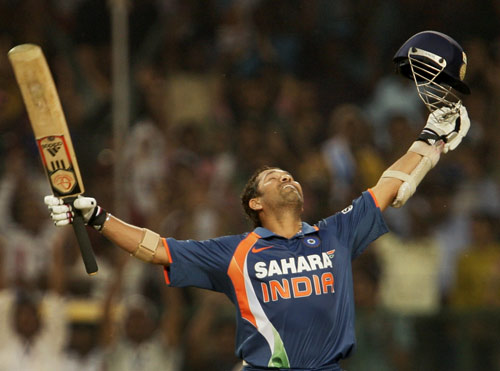 Every year Sachin produces atleast one such knock that makes me like, "WOW! That's amazing. That's one of the best innings I have seen. That was perfect and blah blah". But yesterday for the 1st time in my whole life I was speechless. As soon as Sachin reached his double century, all I did was jump as high as I can and then bow down to him. That's how incredible the knock was. In other words, yesterdays knock was Legendary.
I remember watching the match in which Anwar scored 194 in Chennai with my dad and thinking, "No one except Sachin can beat this record". That was so many years ago and yesterday Sachin proved me right. He just made my day with that knock. I was saying to my Dad, "See, I told you only Sachin can get there", and he smiled and nodded his head. The best part was that he scored all the runs, he dint use a runner at all and get this he is 36. This was one the best innings I have ever seen and also the one that I will never forget. This beats his 175 against Australia last year and also his most appreciated knock in Sharjah.
I do feel bad for my second most favorite team though. I feel bad for AB, he played a good knock. But even that doesn't stop me from jumping up with joy. I am elated! I am happy. I can't seem to be able to get over that Sachin has made history.
I love you Sachin!! You are the best!!!