"Enjoyed the match Harini", my friend asked me yesterday.
"It was ok".
"Ok?? You kidding me?? It was brilliant. It was such a close finish… like you always prefer them".
"I still dint like it".
"Why"? He asked me with so much of confusion that I went ahead and explained him why for an hour.
I won't deny that I did enjoy the match. I enjoyed how close Sri Lanka came to chasing down 414… I loved it when Sehwag, Dhoni, Sachin, Sangakkara and Dilshan batted. I loved watching the amount of boundaries and sixes scored. I liked the nail biting finish it had.
But my basic problem was the bowling. No, I won't go and blame the bowlers. What are they supposed to do when they are given a dead pitch… that neither assists the spin bowling nor seam bowling? There was a time when scoring above 300 was a big deal. But now, teams score 400 and still the other team can chase it down. If someone says the quality of bowling has gone down… I would completely disagree. I would say the quality of pitches has gone down all over the world.
People want to see high scoring games and curators make pitches to satisfy the crowd. But has anyone thought how dishearting it is for a bowler? He goes out there he bowls his heart out yet they get no help from the pitch. I miss watching good bowling. I enjoy watching a good bowling as much I enjoy watching a 4. But with the current pitches, the bowler can bowl a good line and length and expect that the batsmen to commit a mistake. I won't deny that I am sucker for high scoring games but all I ask is some contest between bat and ball, not just bat and bat.
Anyways, moving on to much happier things… India is No. 1 in test rankings. Yippee… for any cricket fan they would know how much that means as test cricket is the real cricket. Too bad that we don't play it as often as we should and what's worse is that India have just 2 tests coming up and I really don't know how are they going to hold on to their position. As I speak Australia and South Africa both are playing test cricket against West Indies and England respectively. And South Africa seems to be doing well.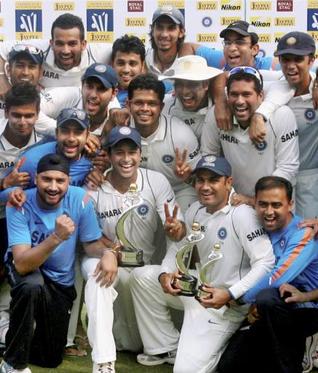 We all have celebrated, hailed the current Indian team for achieving this feat that none achieved before. But I would like to name some who aren't a part of the team at the moment yet had a huge role to play. And those two would be my Dada… Sourav Ganguly and Anil Kumble. Sourav took over as a captain after a debacle and he built a team, he made the Indian team what it is today. It was during his tenure that he got in young players. He believed we could be No.1, so he and John Wright worked towards it. He is the most successful after Indian had who has won 21 test matches. Coming to Kumble, he is one of the best blowers India has produced. Also during his short tenure as the captain, he did well.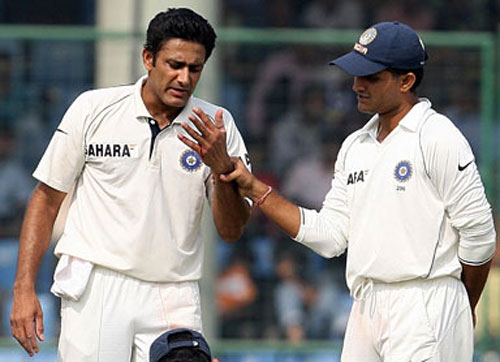 PS- I think that Srikanth may be right… I am getting obsessed with Cricket. I think about it, talk about it and now even dream about it.